Well I am extremely behind on my blog and allot of people keep asking me for updates and pictures so I apologize. Sometimes its hard for me to really think about certain things that are going on because I am frustrated or just upset about the outcome.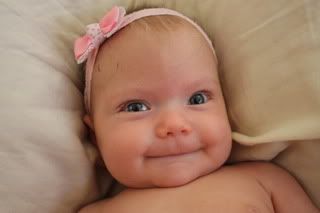 Really though things are going great, she is doing excellent and is truly a blessing to have in our lives.
So I left off talking about our first clinic appointment and we went back again for orthopedic which was just awful and the doctor spent a whole 5 minutes with us and said Emma has little to no muscle activity in the top portion of her leg and we need to do a series of cast to correct it and if the problem still continues we will need to do surgery which could actually take function away from her. This appointment left me so upset, so we came back the following week to get a new cast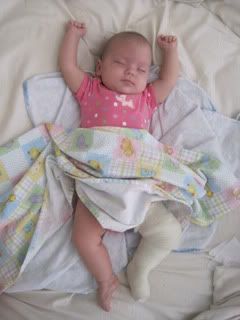 put back on and the doctor decided the foot looked good and we were already going to move to the Bar and shoes. At the time it was exciting, our first weekend with these shoes where just awful couldn't get them to stay on for the life of me so I decided to take her in and see maybe they need to be refitted or something. Turns out they just needed to be much tighter I had the Dr tighten them and left them on for 23 hours like they told me to and when I took them off there was a huge bruise on her heal and it was blue. So at this point I was done time to find a different doctor because I just felt so wrong about everything that was going on and I really disliked the doctor. A mom I meet on a Spina Bifida forum lives here in the valley and see's one of the best Orthopedic doctors and referred me. Last week was our real first appointment with him and I have to say it was so refreshing to finally find a good doctor and feel good about the care she is getting. So we are going to start over with the whole process she got a cast and she should be doing this 4-6 weeks, then Shoes with the bar, and lastly AFO which is costume brace.
He seems to think there are problems within the clinic and came here from Philadelphia to work in the clinic and didnt go into details but something happened they didnt want him. Which is interesting since he is an important part of the Spina Bifida association.Anyways he thinks the doctor we saw there didnt do his job right and that is why she had problems with the shoes. So it was a good thing we went to a different doctor. Its a scary thing to think though that what if we stayed and I just listened to what the doctor said.
During all this is going on Emma has been receiving physical therapy to help her foot. We are doing once a week for an hour, which had been going good but since Emma had a cast put on this week we are working on trunk exercises and her fully extending her arms while on her tummy. We might skip some sessions and bank them up for when her cast comes off, and do twice a week instead. As far as everything else Emma is doing great but I think she is getting several teeth in and has been fussy and doesnt want anyone except Mom. So it has made things interesting.
Hope you like the pictures and I will try to keep everyone up to date on whats going on